Lion

A No-app (no appendage) Lion

Rarity:

Legendary (Tier 4)

Max Level:

100

Max HP:

823

Max PP:

149

Max SP:

102

Stamina:

10

Extractions:

1

Favorite Food:

A-Grade Meat

Habitat:
Lions are a tier 4 critter that are born after seven generations of successful cross-breeding between a Steed and a Mammoth. They are the ancestors of the Cerberus. When a Lion attains max level, you may retire it for a Gene Splicer (Optimist).
Natural Skills: 1 Bite I R, 1 Bite II R, 4 Physical Damage attachments, 2 Parry attachments, Restore Health Points attachment, Damage attachment, and Strength I R
Natural Traits: Accurate, Aggressive, Lethal, Jealous, Voracious, Environment Affinity (Ground)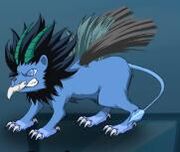 Community content is available under
CC-BY-SA
unless otherwise noted.